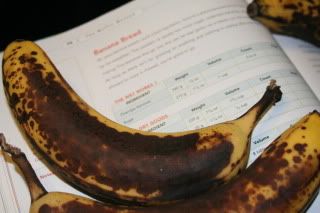 If you have some way past prime bananas hanging around and a copy of my favorite Alton Brown cookbook, then whipping up a loaf of mighty fine banana bread is easily achieved.
I've probably said
I'm Just Here for More Food
is my favorite cookbook as many times as AB has said "Oh bother" on
Good Eats
and there is good reason. Every recipe I've tried from this book is a winner--not to say his other books or even GE's recipes aren't equally as wonderful, but the recipes from this book also greatly appeal me. Anyway, a few days ago I found myself with several candidates for banana bread, so I pulled down my well-tabbed copy of IJHFMF and turned to page 98.
The main reason I started making my own banana bread stemmed from my nut allergy. 99.99999% of banana bread I've encountered contains nuts, mostly walnuts, thus rendering it forbidden fruit... or would that be forbidden fruit bread? Whatever, I couldn't have any. So the best way to remedy that, make my own.
In the past I've used other recipes for banana bread, some came out dry, some were complicated and still dry. Then I found AB's version and it was mighty simple and most importantly tasted great.
The great thing about Alton's cookbooks, just like GE, he explains why things happen or why something needs to be a certain way. The overripe bananas, for example, AB points out the bananas need to be very, very ripe just not oozing or growing fur. The first time I ever made banana bread, I didn't used extremely rips bananas. However, after reading Alton's advice and that to get your bananas mashed to the state of liquid the riper the better, I've gone with just shy of growing fur specimen with great results.
To start the process, combine 3-4 overripe bananas (I recommend using four) and 7 1/4 oz sugar. In the book, Alton recommends using a potato masher for pulverizing the bananas. Before using this recipe that is how I mashed the bananas, so that's a great tip.
The bread itself comes together via the muffin method.
The dry team:
7 3/4 oz AP Flour
1 1/4 oz oat flour (I use oat brand hot cereal)
1 teasp bakng soda
1 tea salt
The wet team 2 (wet team 1 is the bananas and sugar):
1 stick unsalted butter
2 large eggs
1 teaspoon Almond ext (I changed to vanilla)
1 cup nuts are an optional addition.
Bake 50 min-1 hour or until 210 F internal temp; then cool for 15 minutes. Yes, that is a vital step!
Yields one 9inch loaf or 12 muffins.