I've been itching to make Alton Brown's shepherd's pie from "Oh My, Meat Pie" since finding the recipe online a few days before the episode aired. I enjoy shepherd's pie but rarely ever make it. After rewatching the episode a couple of times, I think the show is a lot better than I initially thought.
The recipe from the episode looked very tasty. Really, doesn't all of AB's food look tasty? Anyway, I thought this would a great recipe to try for my recipe of the week.
First problem I knew to expect coming out of the gate was locating ground lamb. I've been on this search before when attempting to make AB's gyros. Instead of heading to every mega-mart in the valley, I opted to make the shepherd's pie with beef. I guess, that would make it a cowboy pie? Maybe?
Oh well, it's going to be tasty! I know that because in all of the years of making recipes from
Good Eats
and Alton's cookbooks, they always turn out great and are so yummy.
It all started with making the mashed potato topping. Simply cook one and half pounds of russet potatoes until folk tender, about 10-15 minutes. Once the potatoes are done, add 1/4 cup of half-and-half, two ounces of butter and one egg yolk and mash until smooth.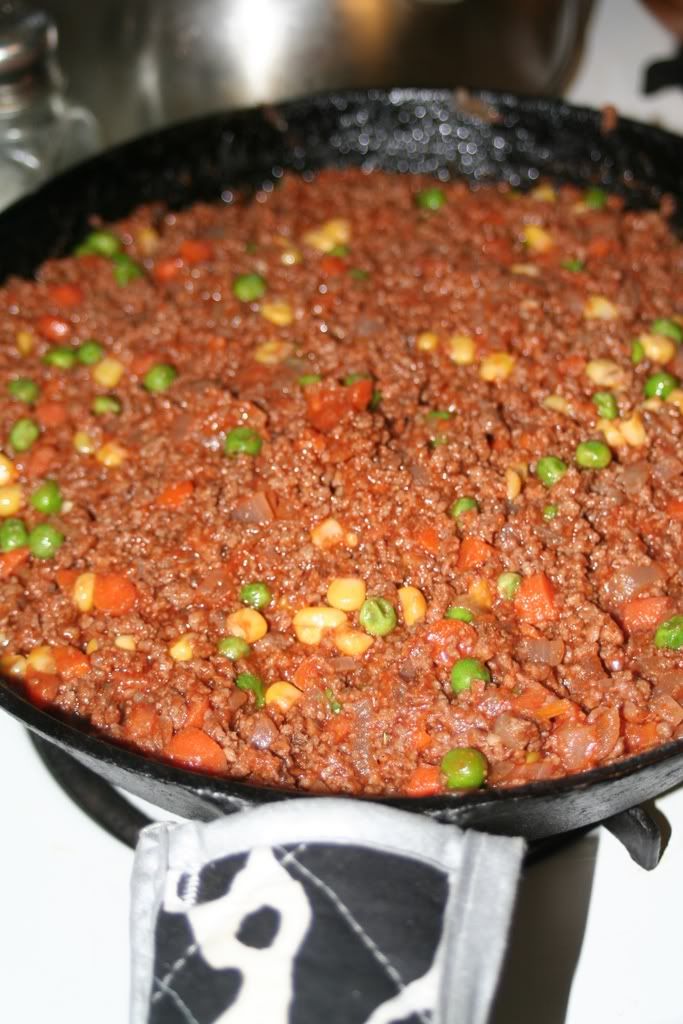 The filling, which in AB's recipe calls for one and a half pounds of lamb, was equally simple to construct. Mine started in the trusty 10-inch cast iron skillet by cooking two diced carrots and one cup of onions. The carrots and onion only need to cook for a few minutes to get some color, then include two cloves of garlic to the mix.
Add the meat and cook it thoroughly. When the meat is cooked, sprinkle on two tablespoons of AP flour and mix it into the meat and cook for about a minute. Add two teaspoons of tomato paste, a cup of chicken broth, one teaspoon of Worcestershire, two teaspoons of fresh rosemary and one teaspoon of fresh thyme. Bring the mixture to a boil, then reduce the heat and simmer for 10-12 minutes or until it is thickened a bit.
Now add 1/2 cup each of frozen corn and peas. I decided to keep the meat mixture in the cast iron skillet instead of transferring to a baking dish as the recipe says to do. Next, place dollops of the mashed potatoes on top if the meat and smooth with a rubber spatula and seal the edges to prevent spillage.
Bake in a 400 degree oven for 25 minutes. Then wait 15 minutes before serving.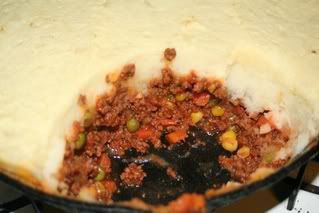 The meat pie is excellent. For certain, a make again recipe! I will seek out some ground lamb and if it can be found, I will compare the two versions. As it stands now, the beef adapted is mighty fine. Thanks, Alton for another great recipe and good eats! :)
AB's Shepherd's pie recipe